OUR APPS ARE DEVELOPED WITH THE AID OF MONTESSORI CERTIFIED TEACHERS TO FIT IN WITH THE CORE PRINCIPLES OF MONTESSORI EDUCATION, NAMELY DISCOVERY, NATURAL CURIOSITY AND AN ABILITY TO BUILD AND CREATE.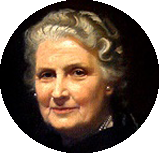 The Montessori Method of Education, developed by Italian physician Maria Montessori, is a child-centered educational approach based on scientific observations of children.
Sensorial Feedback
All our apps give audio and visual feedback, so that children can "feel" their actions have effects. This could be in the form of a sound that a train or a human makes when it is created to sounds of pages turning when a flipbook is created.

Free Play
Play without goals, scores or time limits. Children love building stuff, so our apps let a child create without any distracting music or intrusive scoring systems. There are no time restrictions or limits, so kids can build at their own pace
Digital to Real World
Our app bridge the divide between virtual and the real world.Kids can print their animations out as flipbooks, 3d print their creations and save their animations as movies so that they can experience their digital creations in the real world.

Personalized guidance
Inbuilt tutorials, friendly guidance by our cute Maker Studio characters let kids learn andplay at their own pace. Interactive guided mode allows kids to learn step by step in activities such as making worlds, creating shapes and animating stories.